The Dynamics 365 Finance and Operations Task Recorder Screenshot Chrome extension enables automatic screen capture capability that will be captured as part of the Microsoft word document export after the task recording is complete. This is Extension is now supported in both Google Chrome and Microsoft Edge Browsers! However please note that this extension does not work for on-prem deployments.
The extension also allows for video capture which will be presented to the user for download as soon as the task recorder is stopped. The user can define the desired video format including MP4. This extension is extremely useful for documenting standard operating procedures (SOP) or training material during implementations. You can download the extension from the Google Web Store and purchase a license below.
Note: If you need more than one license activation just use the quantity selection on the check out form (where you selected the payment method) to specify the number of licenses needed. If you purchased multiple licenses you can activate the same confirmation code on multiple devices.
This is not a recurring fee. It is a one time fee and the license is good for life!
Instructions

Make sure you refresh the browser after activation.
Now you will be able to see the "Capture screenshot" slider which will capture screenshot automatically in the Word document that can be downloaded after the task recorder is stopped.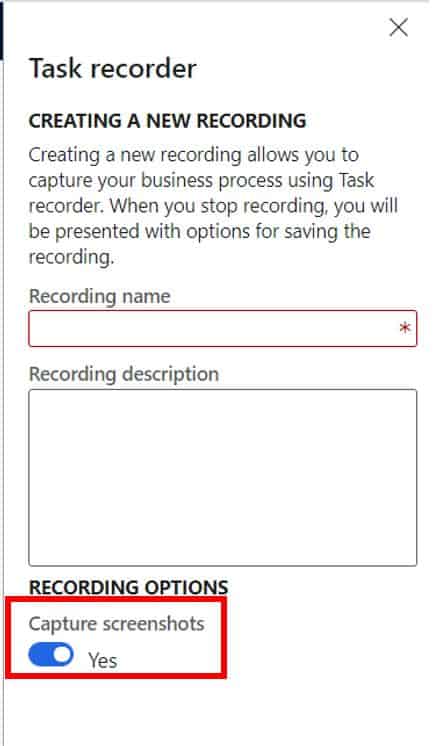 You also have the ability to enable video capture. Just click the extension icon. You can also click the "Options" button to select the video file format ("H264" is MP4).

You're all set to use the task recorder with automatic screen capture and video recording!
Terms of Use
By using the D365 F&O Task Recorder Screenshot and Video extension you agree not to distribute, publish, or share product license keys. We reserve the right to deactivate any license key that has been illegally distributed, shared, or published without the consent of Dynamics-Tips.com.
Support
If you have any trouble activating the extension or need to report bugs or issues please use the contact form below and let us know. We will be happy to assist. If you have any issues please make sure you try refreshing or closing and re-opening the browser.
Contact
If you have any questions, support issues, or general feedback, please email at contactdynamicstips@gmail.com.